FAQ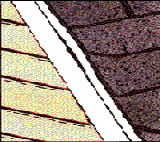 Roofing Shingles Damage
Yes, you should. Many people think their
roof
is in good condition because it "looks fine" and does not leak. However, it is best to prevent the serious problems that occur as a result of hail and wind storms in Dallas, TX. By taking care of the smaller problems, you can save on the increased expenses to come in the future and have peace of mind, not worrying about an impending, serious situation. Some wind damage may not be noticeable until it develops into a serious problems including problems with the roof's decking. We want to prevent you from going through this hardship. That is why we offer you a no obligation
free roof inspection
. We inspect your roof and provide you with a detailed report.
How do I know if my roof needs to be replaced after the hailstorm?

Roofing Hail Damage
In the Dallas - Fort Worth area, just as in other states, the requirements vary from insurance company to insurance company. The norm is that if there are 6 to 10 hail hits on a 10x10 square on all sides of the roof, then the roof has to be replaced. And the good news is that insurance company has to pay for the
roof replacement
. We will assist you through all the steps of the
insurance claim
to make the process as smooth as possible for you and help you receive maximum benefit from your insurance policy.
Can my roof be repaired?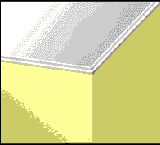 Leaks From Roof Damage
Yes, as long as it does not have a significant wind, hail or other damage. It may need to be rebuilt if it was destroyed by a severe tornado (an occurrence that often happens in the Dallas - Fort Worth area). If you have a small leak, broken or missing shingles, and leaks around plumbing pipes, then your roof most likely can be repaired. However, if significant hail or wind damage has occurred recently, then total
roof replacement
may be necessary.
Can I replace missing and damaged tiles or shingles without calling a roofing contractor?

Yes, but we do not recommend you to do that. Without special training, there is a high risk for personal injury occurring from falling off of a ladder or the roof. You can attempt to do roof repairs on your own, but remember that it takes a knowledgeable and
experienced roofing team
to do the work properly and make sure that your roof protects your home for many years. We provide you with a 10 year labor warranty.
Can I buy my own roofing material and use a roofing company for labor only?

Yes, you can. However, as a
roofing contractor
we have a better price on material than a consumer has. So, purchasing your own material may increase the cost of repairs. In addition, it requires professional experience to successfully order an entire re-roofing package and some needed items often may be overlooked.
How long does it take to install a new roof?

It depends on the size of your building. It could take anywhere from one to three, or even more days. In most cases for residential homes, it takes only one day to install a new roof.

Where do you buy your roofing supplies?
What brand roofing material do you use?
---